Have gone out of these to focus on bigger birds.
ROY AND ROSE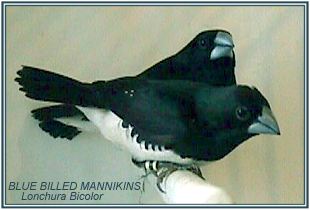 Roy and Rose are blue billed mannikins. There seems to be quite a discussion as to whether they are magpie mannikins or whether they are blue billed mannikins or even black and white mannikins. Whatever they are, they are finches and part of our bird family. We hope that we will have them to offer soon. Roy is the singer and that is the way it should be. The male sings and fluffs for the female who incidently looks exactly like the male. The only way to tell the difference with these little fellows is either DNA testing or to see who is vocalizing. The male is said to wiggle his tongue out at his mate too but as of yet I have not seen this happening. I know for a fact that Rose is not vocal but if they are not making any vocalizations I can't tell you who is who. We are under the understanding that they know who they are. Finches are not a hand tame bird and shouldn't be thought of as a companion bird. They are strictly a beautiful singer and beauty for your eyes. They become quite upset when they are disturbed and are very flighty. We try to not scare them or bother them in any way so that we may enjoy their songs. Finches do not require alot of toys they are quite happy playing with each other and hopping from perch to perch. If you are considering breeding, offer them two different nests. I have a hemp nest that is totally enclosed on one end of their cage and a small canary nest is offered at the other end. Hopefully soon we will see some activity there.
This is our first venture into the finch society. Please be patient while we figure out just what is right and wrong. We will be offering the babies from this beautiful pair as they become available. Please keep checking the babies available page to see who is in the nest box or who has hatched out. I will try to add pictures of the birds as they mature.